Dear residents and visitors of Healesville, Chum Creek and the surrounding areas,
While there is much speculation in the media with the current situation with the Enterprise Bargaining Agreement (EBA) for the paid firefighters within the CFA, we would like to ensure you that the Healesville Fire Brigade will continue to protect the community with the same professionalism, care and respect that we have for the past 122 years since the brigade was formed.
Our 100% volunteer Brigade works alongside fellow volunteer firefighters from neighbouring areas on a regular basis as well as the SES, Victoria Police and Ambulance Victoria.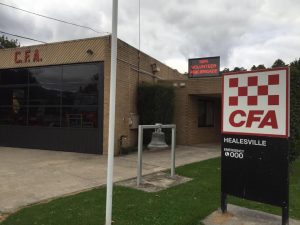 When the times have arisen that we have had paid firefighters assist in Healesville, at times such as the 2009 Black Saturday bushfires, Frenchs Laundry fire, and other large scale fires, there has been nothing but respect, cooperation and a great working relationship between volunteer and paid firefighter.
We ask community members to fully educate themselves on the EBA for paid firefighters, to ensure you are all fully informed and aware of the factual information available. But to make it clear, Healesville CFA is in no way affiliated with the United Firefighters Union.
You can find further information at UFU Victoria and VFBV websites.