Isolation shopping list:
Toilet paper ✅
tissues ✅
hand sanitiser ✅
9v batteries – ???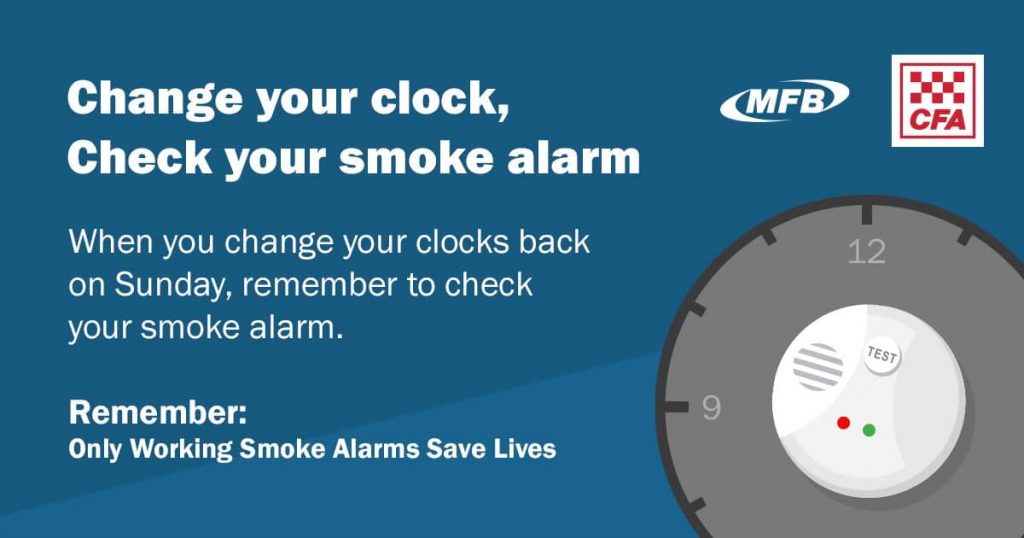 Add checking your smoke alarms to your at home to-do-list.
With many Victorians doing their part by staying home to slow the spread of coronavirus,
firefighters are asking people to add checking their smoke alarms to their at home to-do list.
Metropolitan Fire Brigade (MFB) and the Country Fire Authority (CFA) are asking people to do this
life-saving check after recent research showed that the number, and location of working smoke
alarms in a home increase the chance of escaping from a fire.
"Over the last 10 years, most fatal fires started in either someone's lounge room or bedroom," CFA
Deputy Chief Officer Gavin Freeman said.
"We also know that many fatal fires start at night, and the smell of smoke won't wake you up.
"Our recommendation is that smoke alarms should be powered by a long-life lithium battery,
installed on the ceiling at least 30 centimetres from the wall and interconnected – so that when
one of your smoke alarms sounds, the others will do the same."
"I urge Victorians to keep themselves safe as we head into winter, when heaters and electric
blankets bring a greater risk of house fires."
MFB Acting Chief Executive Officer/Chief Officer David Bruce said it was equally important to test
smoke alarms and clean them regularly.
"Properly maintaining your smoke alarms will save your life, it's no good having a smoke alarm
installed if it isn't working," said Acting Chief Executive Officer/Chief Officer David Bruce.
"If you're doing the right thing and staying home this weekend, it will only take a few minutes to
clean and then test your smoke alarm by pushing the button.
"It's a small step you can take to ensure it will work when you need it most.
"Regardless of the type of smoke alarm you have, all smoke alarms need to be replaced every 10
years.
"Having a working smoke alarm is your first line of defence in the event of a fire," said Acting Chief
Executive Officer/Chief Officer David Bruce.
It's also a good time to check your home for any potential fire hazards.
If you have recently started working remotely from your home, make sure you are being fire safe
by:
o Not overloading power-boards or having loose cables.
o Ensuring monitors, laptops, televisions and other equipment have good air flow
around them and are not in confined spaces or covered
o Don't leave electronic equipment like laptops and phones sitting or charging on beds
o Turning off all electrical appliances at the power point when not in use
o Ensuring home heating, including flues and chimneys, are regularly cleaned and
serviced by a certified technician.
o Checking any home fire extinguishers or fire blankets to make sure they're not out of
date.
o Update your fire plan and talk about it with your household – have a fire plan in place
and practice it regularly, just like you would in the office.
For more information about smoke alarms, visit https://www.cfa.vic.gov.au/plan-prepare/smoke-alarms