Prepare for the fire season!
Come along to our Fire Ready meeting to find out the must-have information for this fire season – learn about the bushfire risk in your area and how you and your community can turn this awareness into action.
Speak to us about:
How and where bush, grass or scrub fires are likely to start and spread around our area
The essential decisions you and your family need to make
How to stay informed if a fire starts and threatens your property
Tips and updates to help you start or review your fire plan
Fire Ready meetings are a good opportunity to share views and experiences about managing fire risk, make contacts or pool resources.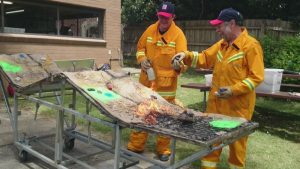 We will also have present a "burns table" which gives a demonstration as to how differences in topography and fuels can influence the intensity of a fire and its rate of spread.
If you have a bushfire plan, bring it with you or if you want to discuss your bushfire plan, we are available to help you.
We also offer a Property Advice Visit Service which you can register for on the night.
When: Wednesday 17th January 2018 at 7:00pm
Where: Healesville Fire Station, Crowley Road, Healesville