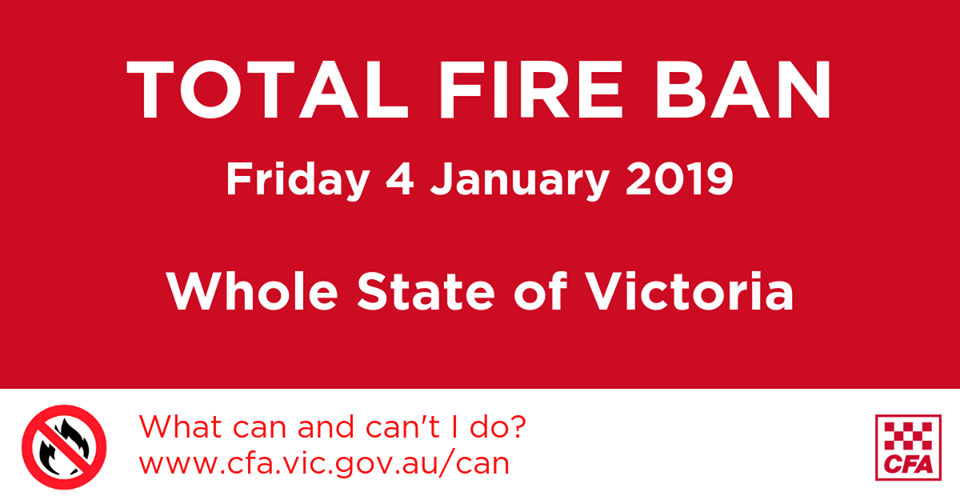 Fire danger ratings will be extreme in two districts the Wimmera and Mallee, severe in the South West, Central, North Central and Northern Country districts, and very high in West & South Gippsland, East Gippsland and the North East districts.
Tomorrow Victorians will be facing hot and dry conditions. Across the state we are anticipating temperatures to reach well into the 40s with a blustery South-West change expected during the afternoon and into the evening.  These conditions will have a significant impact on our ability to fight a fire should one ignite.
Chief Officer Steve Warrington said all Victorians must be aware of the extreme conditions and prepare themselves and their families for the heat and potential fires.
"This is the first statewide Total Fire Ban we have had this summer. Every corner of the state is facing very high to severe conditions today. I urge everyone to stay safe and have your fire plan ready."
"On these hot days, it's important to stay hydrated and cool and look out for people in our communities that may be doing it tough. Check on your neighbours, loved ones and your pets."
TFBs mean no fire can be lit in the open air or allowed to remain alight from 12.01am to 11.59pm on the day of the Total Fire Ban.
For more information on what you can and can't do visit the Can I or Can't I page on the CFA website.
Victorians should also make sure they have access to more than one source of information, including:
·         ABC local radio, commercial and designated radio stations of Sky News
·         The VicEmergency App
·         The VicEmergency website www.emergency.vic.gov.au
·         The VicEmergency Hotline on 1800 226 226