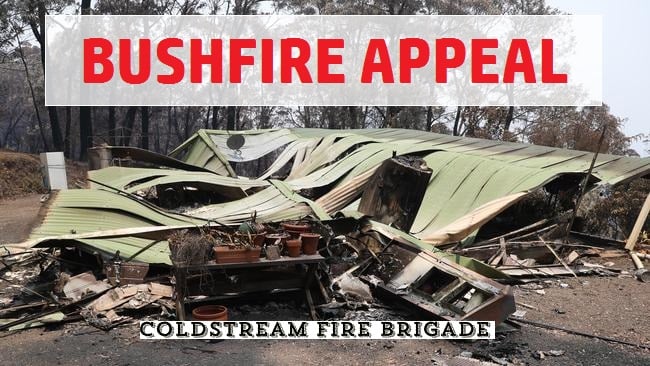 ❌ FIRE APPEAL DONATIONS ❌
The Coldstream CFA are now taking donations for the Fire Appeal in Lucknow and Bairnsdale and any other affected area that requires assistance.
We will be taking donations (specified below) at the Coldstream Fire Brigade Station this
THURS, FRIDAY & SATURDAY between 5:00pm – 6:00pm
SUNDAY 9:00am – 11:30pm
for Delivery to affected areas on Monday.
If anyone has any items to donate that are listed here, please feel free to pop past at times above. We will gladly accept your donations. Please NO clothes at this stage. (except listed as below) If items could be in good condition.
THESE ARE THE ITEMS DESPERATELY REQUIRED:
Long Life Milks / Breakfast Long Life Drinks
Cereals
Noodles
Biscuits (Salada, Ritz, Cruskits etc)
Salt / Pepper / Sugar
Small Drink Bottles
Bottled Water
Pet Items – Food, Leashes, Bowls, Bedding
Books Kids & Adults
Camp Chairs
Camping Beds
Sunhats
New Kids Thongs and Sandals
Toiletries
Hair Ties
New Brushes and Combs
Face Washes & good Towels
Moist Towelettes
Tampons and Pads
Any Bedding, Doonas, Blankets or New Pillows (Please mark size on items)
Childrens Pyjamas
Packs of New Childrens Underpants and Socks (Boys or Girls)
Suitcases