CFA has declared a Total Fire Ban (TFB) tomorrow (Saturday 6/1/2018) for the whole State of Victoria.
Tomorrow's Fire Danger Rating is expected to be extreme in the Mallee and Wimmera, severe in the South West, Northern Country, North Central and Central districts and very high in the rest of the State.
No fire can be lit on the open air or be allowed to remain alight in the open air between 00:01AM Saturday, 6 January and 11.59PM on Saturday, 6 January.
Check Fire Danger Ratings and Total Fire Bans for your district here.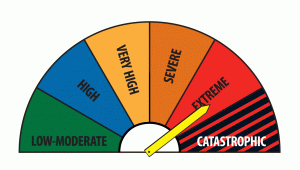 To find out what you can and can't do on a day of Total Fire Ban click here.
Victorians should also make sure they have access to more than one source of information. They include:
Last Updated: 05 January 2018